News
Woodlands at Reid Temple Senior Housing Community Wins Maryland Construction Excellence Award
FOR IMMEDIATE RELEASE
Tuesday, May 17, 2022
MEDIA CONTACT: Alexis Revis Yeoman
aryeoman@co.pg.md.us; (301) 456-4369
Woodlands at Reid Temple – Leasing Office
(301) 778-1281; www.woodlandsatreidtemple.com
Woodlands at Reid Temple Senior Housing Community Wins
Maryland Construction Excellence Award
Largo, MD — Woodlands at Reid Temple, a 252-unit senior living community in Glenn Dale, MD, received the Maryland Department of Housing and Community Development's Construction Excellence Award last week for its outstanding work on the construction of this community. The Prince George's County Department of Housing and Community Development (DHCD) provided $618,490 in HOME funds along with a Payment in Lieu of Taxes (PILOT) to assist in the financing for the development and construction of this affordable apartment complex.
"We applaud the development team on this construction excellence award and for providing high quality affordable housing for our seniors," said County Executive Angela Alsobrooks. "As Prince George's County prospers, affordable housing is critical for our vulnerable populations, including our seniors and the community at-large. We want to ensure our seniors, who have contributed to our community and called Prince George's County home for decades, have an opportunity to stay here and live comfortably in housing that is affordable."
"We are delighted to see one of our affordable senior communities receive this recognition," said Aspasia Xypolia, Director of the Prince George's County Department of Housing and Community Development. "We congratulate the development team of Atlantic-Pacific Communities, Urban Matters and Reid CDC for delivering affordable quality homes for the County's seniors."
"Atlantic Pacific Companies (APC) is excited to have partnered with the State of Maryland and Prince George's County to deliver these 252 high-quality affordable housing units for the senior residents in Glenn Dale, MD. APC worked with our contractor Whiting-Turner and design team at Wiencek & Associates to create a pastoral setting with an approachable design for our community's residents," said Scott Kriebel, Vice President of Development for Atlantic Pacific Companies.
Woodlands at Reid Temple, located at 11600 Glenn Dale Boulevard, opened in April 2021 and features bedrooms with large walk-in closets, floor to ceiling windows and stainless steel appliances. The facility includes a community room with a fireplace and warming kitchen, fitness center, medical office, barber/hair salon, hobby/arts & crafts room, media room, screened-in patio, and community areas on each floor.
"The living experience is positive and there is a real sense of community," says James Peyton, Woodland at Reid Temple resident. "The lounge area, porch and patio are very comfortable, and the activity room has a full kitchen."
"I really enjoy living here," said Lawrence Sampson, another Woodlands resident. "It's a quiet community and it's close to my church. I really like the gym, community room and screened-in porch."
"As a Prince George's County resident and business owner, I am grateful to be a part of the team providing exceptional development and senior housing with a wide range of amenities," said Raymond L. Nix, President of UrbanMatters Development Partners, L.L.C. "I am humbled to be part of the transformative development in Prince George's County and have a meaningful impact on the livers of our senior residents."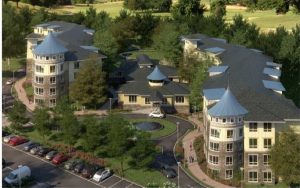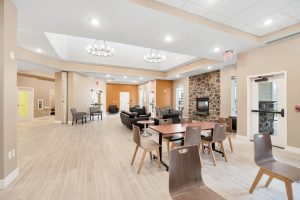 For more information on Woodlands at Reid Temple, contact the Leasing Office on (301) 778-1281, or visit the website: www.woodlandsatreidtemple.com